Main Blog Page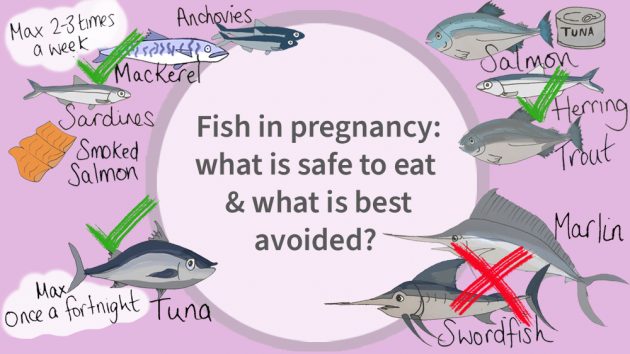 19th August 2020
Fish in pregnancy: what is safe to eat & what is best avoided
The advice surrounding oily fish in pregnancy can be rather confusing. Laura Southern, our nutritional therapist, clarifies what oily fish is safe to eat while pregnant and what is best to be avoided altogether.
Oily fish, such as salmon, mackerel, anchovies, sardines, herring and trout contain high levels of omega 3 fats. These are essential for helping develop baby's brain, however certain oily fish are very toxic and should be avoided.
Due to sea pollution, fish farmed from the sea is usually contaminated with mercury and PCBs. The larger the fish, the higher up the food chain it is, which means the toxicity levels are much higher than smaller fish.
What is safe to eat during pregnancy and what should you avoid?
Marlin and swordfish are best avoided during pregnancy.
Tuna, also a large fish, and has a high mercury content and should only be consumed a maximum of once a fortnight.
Canned tuna is generally a smaller tuna species and is canned without the fish oils meaning it's safe to consume during pregnancy, however it does not provide the omega 3 benefits.
Smaller oily fish, such are sardines, anchovies and mackerel are 'safe' & it's recommended they're consumed 2 -3 times a week.
During pregnancy fish should always be thoroughly cooked as raw fish can harbour parasites which can infect the mother. If raw fish is frozen before consuming, then this will kill the parasite. For this reason, sushi is safe to eat, only if you can be sure the restaurant uses frozen fish. If not, then don't eat it.
Smoked fish, for example smoked salmon, is safe to eat during pregnancy, but treat it as an oily fish – so consume maximum 3 times a week.
Make an appointment
If you would like to learn more about pregnancy nutrition with Laura Southern, or if would like to book a consultation with any other member of the London Gynaecology team, please call 0207 10 11 700 or email [email protected]