Main Blog Page
14th December 2017
Welcoming our Fitness Ambassador
We are very excited to announce 800m athlete Ellie Baker as London Gynaecology's Fitness Ambassador. With a background as a personal trainer and now as a British athlete, Ellie has first-hand knowledge of the importance of fitness in maintaining a healthy lifestyle.
As a determined young woman actively in pursuit of her goals it's no surprise that Ellie has already accomplished many achievements. Recently we spoke to Ellie about her journey as an 800m runner and her top fitness tips, read the article below.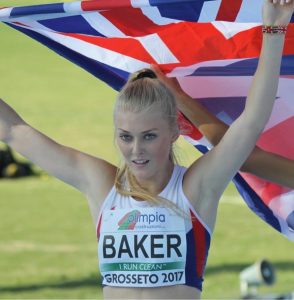 When did your athletics journey begin?
As a child (around age 7) I was very sporty, energetic and loved watching athletics on TV. My parents decided to enter me for the local fun run that takes place in Borehamwood, Hertfordshire, and to their amazement I returned as the fastest female/male for my age.
Then, I joined a local fun run club for a couple of years. As I grew better and faster, I decided I wanted to join a proper athletics club and give it a good go. Since then I have never looked back as I knew this was the sport for me and what I wanted to do more than anything!
I started competing in races when I was an under 11. It has taken a lot of hard work, dedication and mental strength to get from that point, to where I am now.
As an athlete, what is your usual training and nutrition routine?
My usual training routine this year is:
Monday: Morning 5 mile run & an evening run.
Tuesday: Morning track sessions & strength and conditioning during the evening.
Wednesday: Morning 5 mile run & either pilates or another run in the evening.
Thursday: Morning hill sessions followed by strength and conditioning & then a run in the evening.
Friday: Rest day!
Saturday: Morning track session or tempo session, followed by strength and conditioning.
Sunday: A long run, usually around 8 miles.
For nutrition, I always have a protein shake after sessions and hard runs. I eat a lot of protein, carbohydrates, vitamins and minerals. I also drink a lot of water throughout the day.
A daily example of food includes:
Breakfast: Weetabix with honey and berries
Snack: Apple or an orange
Lunch: Chicken, pasta, spinach, and tomatoes
Dinner: Beef, sweet potatoes, broccoli, and spinach
Snack: Homemade protein balls
What are your top tips for someone just starting their fitness journey?
Aim High, Train Clever: This is my top tip. Often when people are just starting their fitness journey, they hit the first couple of weeks hard rather than easing themselves in gently.
Rest: Sometimes you can get more benefit from a rest day than actually training. It is important to let your body recover, which is why it is essential to place a rest day somewhere in your week of training.
Never Quit: A fitness journey shouldn't just be a quick fix for your summer holiday snaps, it should be a lifestyle that you should build into.
Eat Well: Starting with nutrition, you should fuel you body right to get the most out of your training runs and training sessions.
Sleep: Another thing to concentrate on is sleep for performance as this is where your body recovers the quickest. Naps are good!
Who is your female role model and why?
My female role model is Jessica Ennis as she is a motivated, strong, dedicated and hard-working character.
As an athlete, your physical health is so important. Is there anything you do to look after your mental health also?
Mental health and strength is massively important in sport and I don't think there is enough enthusiasm on this issue. A lot of athletes I know will sometimes meditate which is good, however I personally prefer to go to Yin Yoga as it relaxes me and allows be to switch off from everything.